Components, equipment and systems engineering specialist, Powermite, offers a turnkey range of world-class electric rail solutions including rolling cable stock, depot power supply systems as well as plugs and sockets to the Southern African rail industry.
"The railway industry operates in extremely stringent conditions with excessively long operating hours and extreme environments and climates which put stress on equipment," says Powermite Director, Donovan Marks. "Unsurprisingly, this sector is constantly looking for new products and systems to maximise passenger safety and comfort as well as to improve operational efficiencies, reliability and speed. To meet these demands, companies like Powermite and our distributor partners, Prysmian Draka, Conductix-Wampfler and ProConnect relentlessly research the design and development of new, innovative and state-of-the-art product and system solutions."
| | |
| --- | --- |
|   |   |
As the demand for enhanced data and power transmission and advanced technology increase, the amount of cabling required on trains also increase. Powermite is the sole distributor of the Prysmian range of specialist rolling stock cable solutions for all types of rail transport infrastructure including high speed, urban mass transit lines, diesel, regional, underground applications.
The Prysmian Group is a world leader in the energy and telecom cable systems industries. Over 130 years' experience and advanced German technology ensure best-in-class cable solutions across two renowned commercial brands – Prysmian and Draka. The range includes 300/500V to 0,6/6,6kV power cables, control cables, combination power and control cables as well as instrumentation and control cables. 
Prysmian uses materials that improve electrical, mechanical and thermal properties to produce cables that deliver reliable operation for increased safety, extended life expectancy and subsequent maximised uptime. Features including self-extinguishing properties, low emissions of smoke and reduced release of toxic and corrosive gases, prevent the fully IRIS (International Railway Industry Standard) certified cables from contributing to the spreading of fire. Prysmian's high temperature power cables are capable of withstanding core temperatures of up to +150° C and are resistant to temperatures as low as -40° C.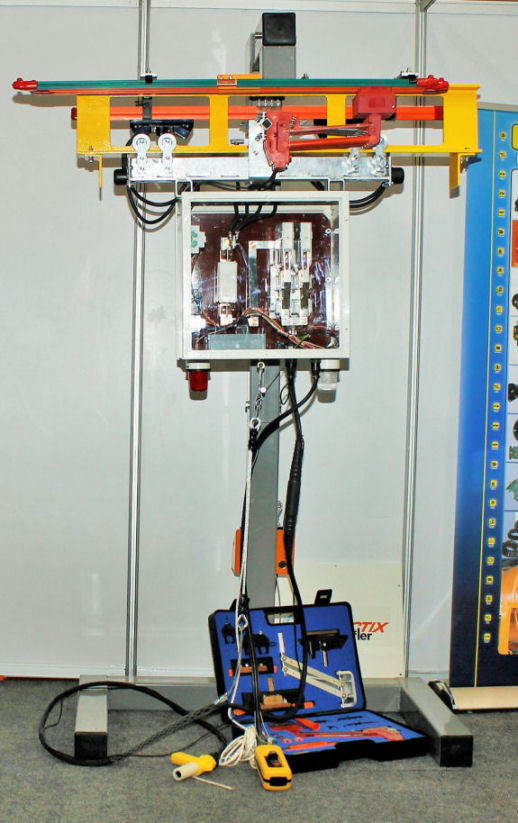 Marks explains that Powermite has been a Conductix-Wampfler distributor since establishing a partnership with French multinational Delachaux and its Conductix-Wampfler operation more than 40 years ago. "Our electric rail product portfolio includes the Conductix-Wampfler Stinger Depot Supply System, an economical and simple solution for supplying power to the rail vehicle while in the depot to undergo maintenance." 
The 500 amp 750V Stinger system comprises a Safelec conveying system and an electrified insulated conductor bar and trolleys mounted on an overhead beam with a simple plug and socket connection supplying power to the rail vehicle. The system's interlocked safety feature is specially designed to ensure that the power can only be turned on when the rail vehicle is plugged into the system. "The system is available in both a fixed and mobile solution and we are able to customise the system to meet differing depot facilities and electrical layout requirements," says Marks.
Powermite has been the sole distributor of ProConnect's high quality range of plugs and sockets for over 20 years. The ProConnect 500 Amp 3PV/3PX plugs and sockets specially manufactured for the rail industry complete Powermite's comprehensive rail solutions offering. 
The Powermite Group, which includes sister companies Proof Engineering and Ampco, is a Division of Hudaco Trading (Pty) Limited. The company supports customers and end-users from head office and a state-of-the-art manufacturing facility based on Johannesburg's West Rand as well as a well-stocked branch network in Vereeniging, Witbank, Rustenburg, Newcastle, Durban, Richards Bay, and Cape Town. 
Powermite is responsible for the installation, service and maintenance of its rail product and system solutions and the company showcased for the first time its 360° rail offering at the continent's largest rail conference and exhibition, Africa Rail 2017 which was held in mid-June in Sandton, Johannesburg.