Superior quality festoon systems from Powermite deliver a reliable, efficient and uninterrupted feed of energy, data, air and fluids to electric mobile bulk materials handling machinery operating in mining and industry across southern Africa. As the carriers of these resources, this machinery is fundamental to a wide spectrum of industries, from open cast and underground mines to quarry, stockyard and port operations.
"Our specialised Conductix festoon systems incorporate state-of-the-art, world-class technology, taking them to next level quality, reliability and efficiency," says director, Donovan Marks. "Above-average operational life, easy installation, uncomplicated operation and cost effective maintenance with subsequent lowest total overall operational and ownership costs are some of the key benefits our Conductix festoon systems deliver to customers and end-users."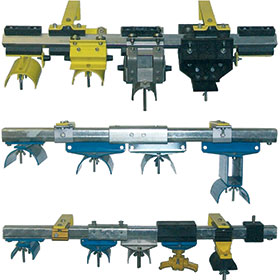 The Powermite/Conductix festooning range presents an extensive array of configurations for straight runs, bends and circular configurations, making these feeding systems ideally suited for virtually any type of moving equipment including bulk material conveyors, stackers, reclaimers, travelling hoppers, rail car dumpers, plating lines, water treatment and even car wash systems. The company also supplies festoons that run on diamond track or square rail which are specially engineered to prevent dirt build-up and reduce dust accumulation.
Irrespective of the particular cable or hose package, the running speed or the location of the machine, Powermite/Conductix-Wampfler has the appropriate ISO 9001:2008 certified festooning solution for diverse industries such as mines, steel mills, ports, power plants, airports, warehouses and automotive facilities.